Helping America's Retailers Grow with the Largest Selection of Sale Signs and supplies, at a great Value!!
You're #1 with us! - Most orders ship same business day! - Largest Selection - Everyday Low Prices 
Call us toll free: 1-877-941-4433,  Mon - Fri,  7am - 5pm (PST) 
Outdoor Yard Lawn Signs and Arrows
Retail Outdoor Yard Lawn Signs and Arrows - Use these arrows and lawn signs to draw attention to your location. The signs are printed on durable, corrugated plastic. Price breaks are at 5 and 10 units. Use with optional slogan toppers to display what your are selling. Comes with 30 inch ground stake.
Products
Results 1 - 2 of 2

Quantity Discounts:
5 to 9:
$28.55
10+:
$29.80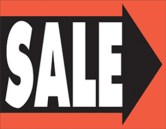 Quantity Discounts:
5 to 9:
$19.95
10+:
$18.95
Results 1 - 2 of 2
Latest Products