Helping America's Retailers Grow with the Largest Selection of Sale Signs and supplies, at a great Value!!
You're #1 with us! - Most orders ship same business day! - Largest Selection - Everyday Low Prices 
Call us toll free: 1-877-941-4433,  Mon - Fri,  7am - 5pm (PST) 
SIGN HOLDERS: Metal Chrome Card Holders
Horizontal Chrome Metal Sign Frames - These metal sign frames are chrome-plated. The durable metal sign frame systems are sturdy to withstand heavy traffic areas, and attractive for any environment These metal sign frames are with horizontal orientation. The information card holders have a top-loading slot. We carry a large selection of price cards and laser tags to insert in the frames. These metal sign frames have a rigid 10" stem or wedge base. Price breaks are at 5 and 10 metal sign holders.
Chrome Sign Frame with Stem is a versatile sign frame that can be used throughout the store
Stable base can be used on flat surfaces or beneath product
Products
Results 1 - 2 of 2

Quantity Discounts:
5 to 9:
$21.95
10+:
$21.35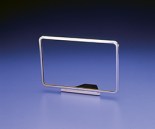 Quantity Discounts:
5 to 9:
$13.05
10+:
$12.60
Results 1 - 2 of 2
Latest Products
Top Ten Products